The days at Uncle Henry's begin early in the morning. One of the workers comes in 30 minutes before the rest of the workers and mixes the first batch of dough, so it will be ready to twist when the others arrive. Most workers do not drive cars, but arrive by bicycle or the van that is provided to pick them up.
Step 1 – Our Ingredients
Uncle Henry's pretzels begin with all natural ingredients, grown and produced in Lancaster County, PA. That includes oat bran and sesame seed too!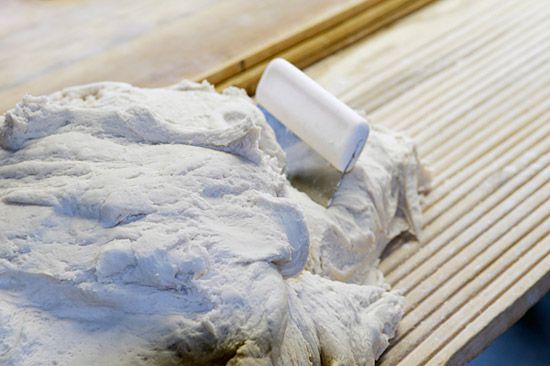 Step 2 – Mixing the Dough
Every batch of pretzel dough is mixed fresh daily. The amount of dough we mix depends on our baking schedule and orders for the day.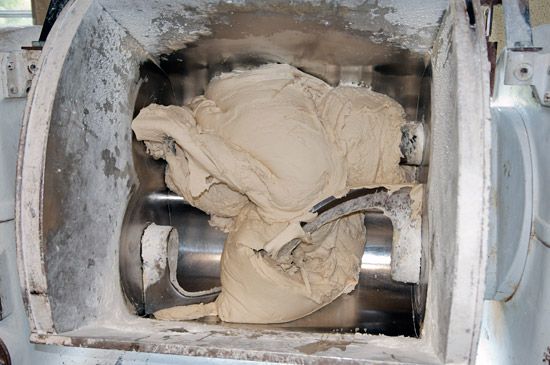 Step 3 – Rolling
Mixed dough is carefully rolled out into long, rough pieces.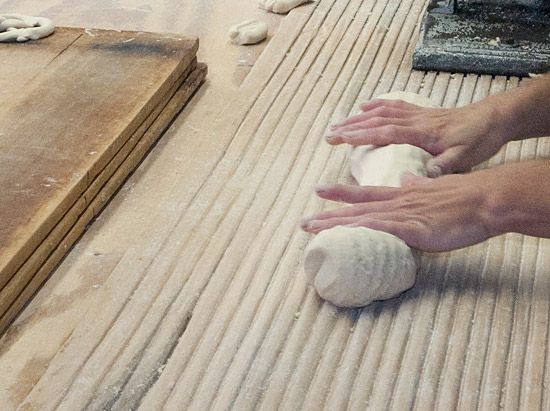 Step 4 – Cutting
The pieces of dough are then fed through a hand crank machine to cut the dough into smaller pieces perfect for twisting.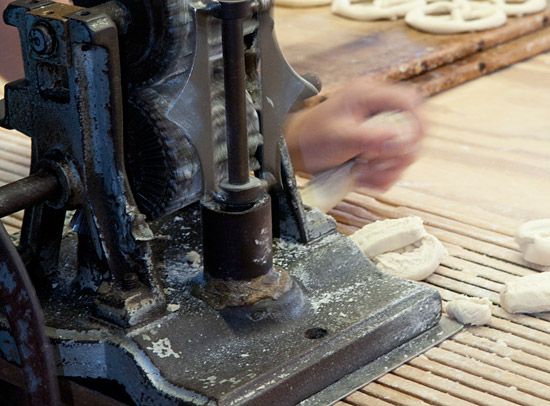 Step 5 – Pretzel Twisting
This is where the pretzels begin to take shape. Each pretzel is carefully rolled and twisted by hand, so no two pretzels are exactly the same. These hand-rolled pretzels are put on long trays to await the salting process.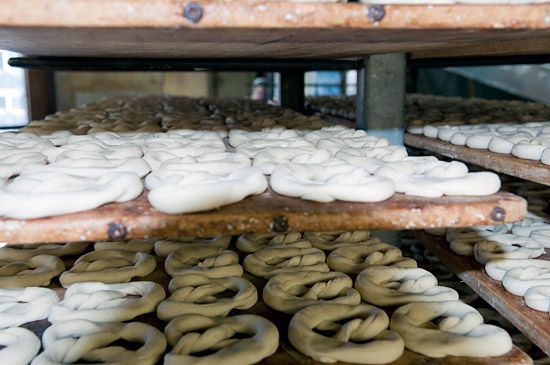 Step 6 – Hand Salting
Salting is based on the pretzel variety we're working on. Pretzels are dipped in a wet solution, then salted by hand.
Step 7 – Baking & Drying
Pretzels are baked in our stone-hearth oven, then dried according to pretzel variety. Extra Dark varieties are baked a bit longer, for a nearly-black finish, while our Special pretzel varieties are finished to a nice golden brown.

Step 8 – Sort & Pack
After baking, pretzels are sorted according to variety and broken pretzel pieces are removed. Next we hand bag our pretzels and send them off for shipping.
Step 9 – Shipping
Each order is hand packed using biodegradable packing peanuts and shipped. Special orders receive personal attention right down to the hand-written notes that go with them!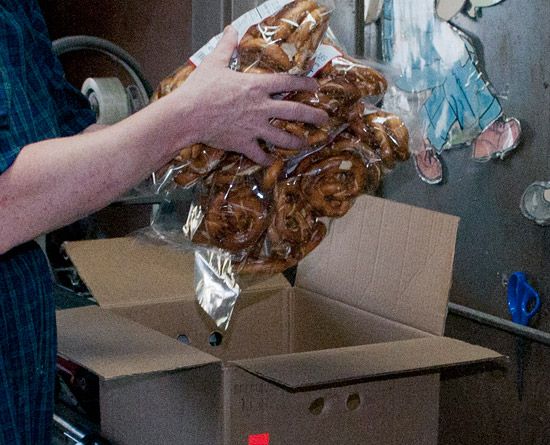 Step 10 – Buying Pretzels
Did our tour make you hungry for a bit of crisp, salty flavor? You can order our pretzels right online! Check out all our pretzel varieties and have them delivered right to your door!