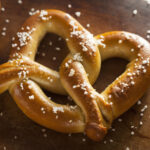 We all get the craving for a nice, salty pretzel every now and then. As one of the most popular snacks in the United States, it's no wonder why so many of us turn to pretzels to satisfy our cravings. But for those of us who are trying to watch our health, we may be wondering how healthy those pretzels we're eating really are.
While we at Uncle Henry's Pretzels will never try to argue that pretzels are the healthiest thing you can eat, there are nutritional benefits to eating the occasional pretzel. Read on to learn more:
Good for people following a low-fiber diet
Pretzels are low in fiber. As such, they're great for individuals who are following a low-fiber diet. You may be following a low-fiber diet if you have digestive issues or are undergoing treatment such as radiation therapy.
They're a good source of energy
Pretzels maybe low in fiber but they're high in carbohydrates. Many people get nervous about eating too many carbs, but carbs are also our main source of energy. If you're feeling tired or if you've just finished a long workout, a soft pretzel can be the perfect pick-me-up.
Certain pretzels are healthier than others
In terms of healthiness, not all pretzels are created equal. Traditional pretzels or chocolate-covered pretzels are going to have more carbs, sugar, and sodium. While perfect for the occasional snack, you may not want to be munching on them all the time. Meanwhile, whole wheat pretzels are delicious and healthier. You can also get pretzels with reduced sodium if you're worried about the sodium intake in regular pretzels.
At Uncle Henry's Pretzels, we offer reduced sodium pretzels, whole wheat pretzels, and more! Look through our website today to see our wide selection of handmade pretzels.