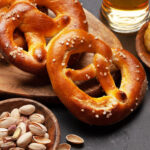 Whether you're hosting a wedding or planning a party for the Big Game, food stations are a great way to entertain and feed your guests. One of the many food stations that hosts are turning to are pretzel bars. Pretzels are affordable and versatile, making them a great treat for all your guests. You can dip them in chocolate and sprinkles to class them up for your wedding, or you can keep them plain for a more casual affair.
No matter how you plan to use your pretzel bar, here we discuss the steps you can take to set up the perfect pretzel bar for your event:
Step 1: Decide on your pretzels
Pretzels come in all shapes and sizes. You have the classic soft pretzel, adorable pretzel bites, simple pretzel sticks, delectable chocolate-covered pretzels, and more! With so many choices to choose from, you may feel a bit overwhelmed. We recommend choosing your pretzels based on how classy or casual your event is. For example, a football party may be better off with fun, bite-sized pretzels while a wedding could have full-sized soft pretzels.
You should also avoid sticking to just one type of pretzel and dip. Have at least two or three options for your guests to choose from, that way you appeal to everyone's tastes.
Step 2: Pick your dip
Picking the right dip is essential when setting up your pretzel bar. So, after you choose your pretzels, you'll want to think about which dips will be right for your party. There are a wide variety of pretzel dips for you to choose from, from cheese to mustard to chocolate. You can dress up or dress down any of these dips, so choose whichever ones you think your guests will enjoy the most!
Step 3: Create your display
Every pretzel bar has a unique display. Some people hang their pretzels off of a bar, others place them in custom-made bags. The possibilities are endless when it comes to pretzel bars. To help get you started, look through some of these ideas here.
Looking for the perfect pretzels for your pretzel bar? Uncle Henry's Pretzels has you covered. We have plenty of pretzel varieties for you to choose from. Look through our website today!