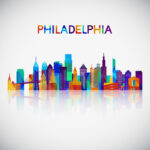 Located about an hour and a half from us here in Mohnton is the city of brotherly love: Philadelphia. Home to many famous foods, there is one little-known salty and sweet creation that keeps people lining up at shops and farmer's markets: Pretzel Shortbread Cookies.
Created by Alex Bois as a way to reduce waste and use up leftover pretzels, the cookies skyrocketed in popularity and continue to gain fame.
What are They?
Essentially, you take a sweet, buttery shortbread dough and mix in crushed hard pretzels. After a lye bath and a sprinkle of pretzel salt, they get baked. The result is a crunchy, sweet, salty cookie that, before you know it, will have you polishing off the whole sheet before you can give some away!
How Can I Make Them?
Take hard pretzels (we suggest our extra dark pretzels) and pulse them in a food processor- you want small chunks. Add them to your favorite shortbread recipe, then roll out and cut the dough into rectangles. Poke holes all over with a fork, and let cool while your oven heats to 500 degrees.
Here is where the lye bath comes in. If you're using lye, you must wear proper equipment (gloves and eye gear). Many people are apprehensive about using food-grade lye, which is understandable! Instead, you can give your cookie creations a baking soda bath and then coat them with an egg wash before baking.
Whatever one you choose, you will create the solution, dip your cookie, and set it on the baking sheet. If you're using baking soda, this is where you'll brush with an egg wash.
Sprinkle the cookies with pretzel salt, and put the cookies in the oven. Immediately drop the temperature to 350 degrees and bake for around 20 minutes (or until deep brown). Let them cool on a wire rack, and store leftovers in an airtight container- if you have any leftovers! These make a great gift, or a unique addition to any gathering or event.
If all this talk of salty and sweet desserts has you craving some, you're in luck! At Uncle Henry's Pretzels, we have sweet-n-salty gift boxes and a wide variety of pretzels and chocolate goodies to satisfy any cravings. To get started, visit us online!