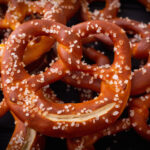 We're about a month into 2023, and if you were one of the many who made a resolution to eat healthier, you might feel burnt out. Many people start the new year happily munching on kale chips, but weeks later, their pantry fills up with greasy chips or store-bought cakes again.
Eating healthy can be simple; the key is figuring out what works best for you. For the most part, most people don't do well when they completely cut certain foods out. That's why making simple substitutions or healthier versions is a great way to keep you healthy and satisfied! Below are some pretzel snacks that will fit any craving and keep you aligned with your 2023 health goals!
Seasoned Pretzels
Many families have their version, which usually involves packets of seasoning and heaps of butter. However, by making a few simple swaps, you have a healthier version:
– Swap out butter for coconut oil, olive oil, or even quick sprays of cooking spray!
– Make your own seasoning blends. Not only is this a bit better (you can cut out the powdered dairy), but you have more control over flavors.
Then follow as normal- bake and enjoy! Some popular flavors are ranch, everything bagel, and buffalo!
Protein Pretzel Balls
This is a great way to use up the end of a bag of pretzels! Combine the following:
– 1 cup crushed pretzels
– 1 cup rolled oats
– ½ cup protein powder of your choice
– ¾ cup natural peanut butter
– ¼ cup chopped nuts
– ¼ cup mini chocolate chips
– A dash of vanilla, a pinch of salt, and maple syrup to taste (start with around 1.5 tablespoons).
Combine the ingredients in a bowl, and scoop them into equal size balls. Eat immediately, or freeze for up to 3 months!
Pretzels and Dip
This can be as simple as buying a healthy dip from a store and pairing it with your pretzels. For better control of ingredients, or more customization, here are some simple dip ideas:
– Tzatziki: plain Greek yogurt, fresh dill, diced cucumber, grated garlic, and lemon juice.
– Hummus: blend chickpeas, tahini, salt, olive oil, and lemon juice. After that, add any flavors you want, like garlic or red pepper!
– Dessert hummus: the exact ingredients depend on what flavor you want. To start, blend chickpeas, tahini, and nut or seed butter. A popular choice is chocolate, which is made by adding maple syrup and cocoa powder!
To take it a step further, try packing a 50/50 combination of pretzels and vegetables for savory dips, or fruit for sweet dips!
At Uncle Henry's Pretzels, we have a wide array of pretzels for you to choose from and snack on. We also have sweet-n-salty gift boxes and a wide variety of chocolate goodies to satisfy any cravings. To get started, visit us online!